All coaches  are former or current students of our school.
Aleksey Shuruyev (Director/Founder)
Aleksey started climbing as a teenager, in the Caucasian Mountains near his hometown of Krasnodar, Russia. Since then, he has had 38 years of climbing and mountaineering experience in the Alps, Caucasus, Crimea, Yosemite ,U.S Rocky Mountains, Canada, Mexico, New England and Alaska. Aleksey has put up a dozen first ascents in Alaska, Yosemite, British Columbia, New England and the Caucasus, some of them are featured in the American Alpine Journals, Rock and Ice and Climbing magazine. A teacher by education, he has worked with children of all ages; for the past 22 years in the US, he has developed safety-conscious, well-rounded climbing and other outdoor programs for youngsters and the young at heart.
His students compete at the regional, divisional, national and world levels. Seven of his students became US Youth and three US College National Champions and 10 students made US Youth National Team and competed at Worlds.
Aleksey is USA climbing coach certified, also a graduate of the Appalachian Mountain Club Leadership School and is also Widerness First Responder, CPR and First Aid certified. He graduated from Krasnodar Mechanic Technology College (1985) with degree in engineering, and from Kiev University (1995) with MA degree in History. Married for 30 years and has two daughters.
Kevin Donovan (Head Coach)

Kevin has been climbing since 2011. He began in the Cliffhangers program and moved onto team Alpina.He has traveled all over the country for both sport and trad climbing. His favorite climbing areas are Yosemite and Rumney.
His hardest climbs are:
China beach 14b
Kaisu 14a
Difficulties be Dammed 14a
Cecile 13d
Barracuda 13d
Urban surfer 13d
Rocket man 13d
Dodge the lemons 13d
Erika Rothrock
Erika has been climbing for 8 years. She began climbing competitively and sport climbing in her first year of climbing and then branched our into the disciples of traditional climbing and bouldering. Erika has competed at several national level competitions for sport and bouldering. Erika has done several 5.13 sport routes and aspires to climb a 5.14. She is very interested in exploring different styles and disciples of climbing and wishes to achieve mastery in multiple
Some of her proudest climbs are:
Michael Jucewicz
Michael has been climbing for 8 years with IRCS. He has climbed in Nevada, the Red River Gorge, and all over New England, but his favorite spot is Rumney, NH. Michael has been an active competitor in the climbing scene and has won regional and divisional competitions in New England. He's also been a coach and counselor for IRCS for 3 years. Some of his hardest sends include: Rhythm X 13b/c
Isabella Snyders Dykeman
Isabella has been climbing with IRCS for 8 years. she has climbed in Nevada, Red River Gorge, Rumney, and many other places in New England. she had also been active in the competitive scene. she has won some regional and divisional championships and has been to nationals many times. some of her hardest sends are: Kundelini 5.12d
Former coaches
We are very proud of all our former coaches who used to work for the school and helped building it:
Mike Foley (Head Coach)

Mike has been climbing for 12 years. He has climbed all over New England, in Yosemite, and in Red Rocks. Mike is a former member and a head coach of Waimea climbing team. Although he does mostly sport climbing, bouldering, and competitions he also enjoys trad climbing.
Hardest routes:
Jaws 5.15a
Dreamcatcher 5.14d
Livin' Astro 5.14c
China Beach 5.14b
Cold War 5.14a
Strict Scrutiny 5.14a
Riviera 5.13 d
Feeding Frenzy 5.13 c/d
Full Monkey 5.13c
Rhythm X 5.13 b/c
BOHICA 5.13b (Flashed)
Golden Touch 5.13b
King Cobra 5.13b
Cote d' azure 5.13b
Stone Monkey 5.13b
Predator 5.13b
Snooker 5.13a
Tristan Chen
Tristan started climbing early in 2007 with his father and brothers. Shortly thereafter he began climbing with IRCS and Team Waimea. He has climbed all over New England, but has also climbed in Kentucky, New Mexico, and California. Tristan became USA champion in 2015.
Hardest Climbs:
Jaws II 5.15a
Cold War 5.14a
Great White 5.13a
Skin Boat 5.13a
Bottom Feeder 5.13a
Kundalini 5.12d/5.13a
Flying Monkeys 5.12c (Flash)
Brian Nugent
Brian started climbing in 2008 with IRCS and has climbed all over New England, Kentucky, West Virginia, Tennessee, Spain, California and Nevada. Brian enjoys mostly sport climbing and bouldering. He has been a coach for Team Waimea since 2013. Worked as a counselor at our Summer Camp for number of years and as Head counselor in the year 2014.
Some of Brian's hardest routes and boulders are:
Cold War: 5.14a; Urban Surfer: 5.13d; Dodge the Lemons: 5.13d; Feeding Frenzy: 5.13d; Strict Scrutiny: 5.13d; Rocket Man: 5.13d; Barracuda: 5.13c; Rhythm X:
Confident Man: V12; The Best Buy: V12; Sister Savior: V11; Pretty Bloc Swag: V11; Stand and Deliver: V11; Suspect Device: V11; Halcyon: V11
Augy Cohn
Augy started climbing in 2004 when he was 11 years old. He entered the sport
through the Boston Rock Gym's youth programs and later joined Team Waimea. Since
then, Augy has climbed both indoors and outdoors all over the country. He has competed
in the Youth National Championships 5 years in a row and in the Continental Championships. Augy has been the head coach of Team Waimea and is one of the head counselors at the summer camp.
Eva Pontrelli
Eva started climbing with IRCS in 2007. She has coached Junior Waimea and various Cliffhanger classes, as well as being a counselor at the IRCS summer camp. She has loved competing in everything from Dark Horse bouldering competitions to USAC Youth Nationals ever since she started climbing, and also enjoys climbing outdoors. Some of her favorite routes are: Flying Monkeys (5.12c), Peanut Man (5.12a), and Koundalini (5.12d).
Christina DiNapoli
Christina began climbing with Aleksey in a Cliffhanger class in 2005 and progressed to Team Waimea in 2007. Since then, Christina has climbed in Red River Gorge, Kentucky and Red Rocks, Nevada with the team, as well as Rumney, New Hampshire and other places in the state. She loves coaching Cliffhangers and Team Waimea, and is one of the head counselors at our Summer Camp. Additionally, Christina runs cross country for Lexington High School in the fall.
Some of her favorite climbs at Rumney are Social Outcast 12a, Captain Hook 12a, and Bullwinkle Craters 11b
Joey Harris
Joey has being climbing intensely for five years. He enjoys all possible types of climbing: bouldering, sport, tread and ice climbing. He is very passionate about teaching younger climbers and always ready to share his knowledge with them. Joey currently coaches several Cliffhangers classes, Team Alpina and Waimea Junior.
Sam Leonard

Sam has been climbing since 2008, and been on Team Waimea since 2009. He has climbed in New England, Kentucky, and West Virginia. He loves climbing outdoors and is
Wilderness First Aid certified. Sam has coached cliffhanger classes, been a counsellor at the IRCS climbing camp, and is currently a coach for Team Waimea.
Some of Sam's hardest climbs include:
Great White: 5.13a
Dyno-saur: 5.13a
Venus: 12c
Whiptide: 12c
Flying Monkeys: 12c
Nate Malone
Nate has been climbing since 2007, and joined Alpina in 2008. He enjoys sport climbing, bouldering, trad climbing and ice climbing. Nate has been climbing in the New England area, including Rumney, Crow Hill, Mormon Hollows, Cathedral, Hammond Pond, and various other places. He has even built snow caves with his teammates during an overnight trip to Mt. Bond. He is a councilor-in-training for Camp Aleksey and started coaching Cliffhanger classes in 2011. Nate is eager to teach others and learn from them as well. One of his favorite moments is sitting at a campfire after a long day of climbing.
Hardest Climbs:
Predator: 5.13b
Flying Monkeys: 5.12c
Technosurfing: 5.12b
Whip Tide: 5.12b
Orangahang: 5.12a/b
Flesh for Lulu: 5.12a/b
Social Distortion: 5.12a/b
Peanut Man: 5.12a
Social Outcast: 5.12a
Weevil Knevil: 5.12a
Rowland Chen

I've been climbing for five years, three with the IRCS, and competitively for two years. I've been lucky enough to climb all over the country; at Red Rocks in Las Vegas, Red River Gorge in Kentucky, Rumney in New Hampshire, and El Rito in New Mexico.
Hardest Climbs:
Charlie Don't Surf 5.13b
Maui Wowie 5.13 a/b
Suburban Surfer 5.13a
Dynosaur 5.13a
Kundalini 5.13a/5.12d
Andy Lamb
Andy has been climbing for about twelve years, mostly in New England. He has also taken climbing trips to Red River Gorge, Red Rocks, Siurana (Spain), Yosemite and many other destinations. In addition to climbing outside he climbs competitively and has made the U.S. National Team seven times. Andy became USA champion in college bouldering Nationals 2015.
Hardest Climbs:
Livin' Astro 5.14c
China Beach 5.14b
Cold War  5.14a
Urban Surfer  5.13d
Dark Star  5.13c
Cote D'Azure  5.13b/c
BOHICA  5.13b
Thin Man  5.13b
Coral Sea  5.13b
Maui Wowie  5.13b
Stone Monkey  5.13b
Predator  5.13a/b
Skin Boat  5.13a
Snooker  5.13a
Roaring Silence  5.13a
Butt Bongo Fiesta  5.13a
Neptune  5.13a
Tin Monkeys  5.13a
Dyno Soar  5.13a
S.O.S  5.13a
Pota the Elephant  5.13a
Suburban  5.13a
Bottom Feeder  5.13a
Kate Vorotnikova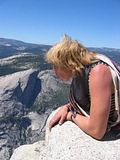 Kate started climbing as a teenager in the Caucasian Mountains. After entering Moscow State University, Biological Department, she joined Moscow University Mountaineering Club and since then she has had more than 20 years of mountaineering and climbing experience in the Caucasus, Crimea, Pamirs, Ala Tau, Tien Shan, and Himalayas. Her children Vasya (16) and Nadya (13) are good and passionate climbers. They participated in lots of climbing competitions both in Russia and the USA. Last year Vasya and Nadya competed at Nationals in Michigan and got the 4th and 3d place, respectively. Kate's family loves hiking in Mt. Washington area and climbing in Rumney, Pawtuckaway Park, Crow Hills, on Cathedral and White Horse Ledges.
Ilya Tatar
Ilya has been with IRCS since its birth and took part in most of its undertakings. Throughout the years, he helped out with the summer camp, climbing classes, and various programs. Ilya first tasted alpinism soon after he met Aleksey some time in the end of last century. Since then he has been seen in various regions in the US North East, Yosemite and Alaska.
Olivia Metcalf
Olivia has been climbing with Aleksey for 9 years. She is a member and co-coach of Team Waimea, and a counselor at the summer camp. Olivia has travelled worldwide to climbing competitions. She has competed in China, Ecuador, France, Mexico and Romania, as well as all over the United States. She placed 12th at the 2007 Junior World Championship. She is also a member of the Speed and Bouldering National Teams.
Nicola Segall
Nicola has been climbing competitively for five years. She spent her first year on the Boston Rock Gym team, and her past four as a member of team Waimea. She now also coaches Cliffhangers and works as a counselor at the summer carmp. She enjoys climbing outside a lot, and has traveled to climb in places such as Red Rocks, Tuolomne Meadows, Red River Gorge, and various climbing areas in New England.
Linnea Russell
Linnea started climbing in fifth grade and is now approaching her sixth full year of climbing with Aleksey. She is a member of the Waimea team and has attended the USA Climbing National Championships four times and enjoys competing. Linnea currently coaches Cliffhanger classes alongside Nicola Segall, another one of Aleksey's coaches. Linnea also attends Aleksey's summer camp. Linnea loves climbing and hopes to continue doing it forever.
Mike Franceschi
Mike has loved climbing for as long as he can remember. He first started climbing with Aleksey at Exxcel when he was 8 years old. He is now in his 4th year as a member of Team Waimea, and has traveled to Red River Gorge and Rumney with the team. Mike is happy to climb or coach whenever he has the chance. He mostly does sport climbing and bouldering, but enjoys trying new things, like ice climbing or multipitch climbing. In addition to climbing, Mike loves making art and other creative projects.
Drew Sargent
Drew has been climbing for 6 years. He has been competing for just as many, and enjoys both indoor and outdoor sport climbing. When his home gym in Nashua, NH closed down he found Aleksey, who really exposed him to outdoor climbing in Rumney, NH. Since then he has enjoyed it thoroughly, and this past year got to climb at Red River Gorge in Kentucky. He has been a counselor for the international rock climbing school's summer camp, and a coach for teams Waimea and friday Cliffhangers. His favorite type of climb is something with big moves to good holds, so that he can use his height to skip the tricky parts. Outside of climbing, Drew snowboards, volunteers at a robotics company, and helps teach Physics to homeschooled kids.
Henry Duerr
Christopher Liu
Chris has been climbing in the since 2010. He started in the BRG and has since then climbed as Rumney as well. Favorite climbs are Know Ethics 5.11a, and Peer pressure 5.10d.
Katerina Soltan
Katya joined IRCS in 2010 and has climbed in the BRG and Rumeny. She worked for our summer camp as a counselor for two years. Her favorite routes are Masterpice 5.10a and Sweet Polly Purebred 5.10c. Katya also enjoys hiking, playing tennis, and loves working with kids.
Tonya Shuruyeva
She has been climbing since she was two! at the BRG and in Rumney. She has also climbed at Cathedral and Red River Gorge. Her favorite routes at Rumney are Tropicana 5.11 and Underdog 5.10. In addition to climbing, she has been playing piano for years and also plays volleyball. Tonya enjoys coaching kids very much.
Stine Ornes
Josh Ku